Home

/

Vicom Events Calendar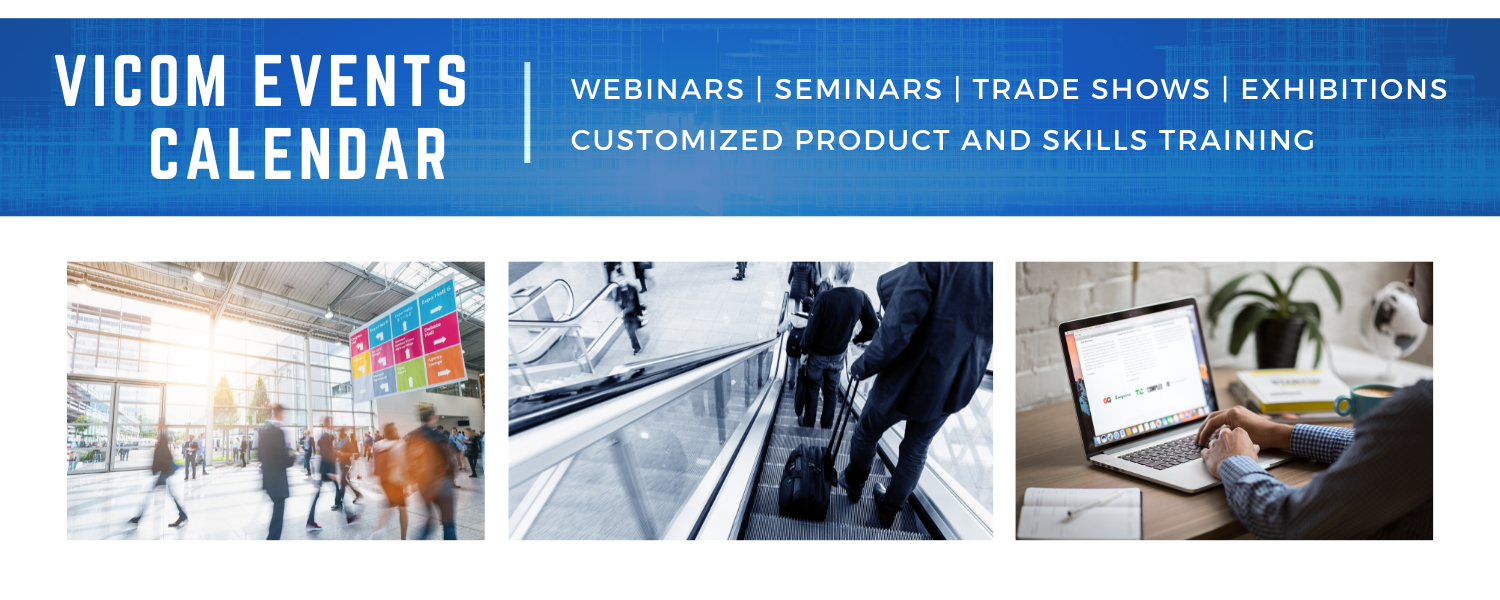 UPCOMING EVENTS BROUGHT TO YOU BY VICOM AUSTRALIA
---
Come and see Vicom at Comms Connect Melbourne 2022, 18-20 October.

Radio Communications and Public Safety Exposition hosted at The Melbourne Convention & Exhibition Centre.
Bringing together those who select, purchase, install and maintain professional and commercial radio communications and public safety equipment
Now in its 15th year, Comms Connect is recognised as the major conference and expo for radio communications and public safety professionals in the Southern Hemisphere. Serious buyers with significant budgets from a broad range of industries, from marine and aviation to mining and emergency services, visit the event to network with their peers, learn from industry leaders, keep up to date with technology, catch up with existing suppliers and importantly, find new suppliers.
Comms Connect exhibitions and conferences run each year in Melbourne, Sydney and New Zealand. The events are endorsed and supported by leading industry bodies, ARCIA, ACCF and RFUANZ.
The events are part of the WF Events division of Westwick-Farrow Pty Ltd (trading as WF Media). WF Media also publishes 11 industry and technology specific digital and print media platforms, including www.CriticalComms.com.au
WANT TO GET NOTIFIED ? SIGN UP BELOW
Would you like to recieving emails notifying you of future webinars, news, technical updates and event invitations ?
VIEW PREVIOUS WEBINARS ON DEMAND
---
| | |
| --- | --- |
| Engineers are great problem solvers. However, sometimes we feel overwhelmed or even left alone at our wits' end. The Tektronix TekShare Live Casts Series aims at sharing the insights, tips and tricks we had learned from working with many other engineers like you around the world, such that you can see your problems in a new perspective and approach them in a new different way, getting it solved faster and easier. | |
| Audio Precision presents regular seminars on audio and electro-acoustic test around the world. They cover best practices for characterizing various devices, look at common mistakes to avoid, and give practical advice on automation as well as what to look for when setting up a test program. | |
| Combilent Group develops and delivers state of the art RF Critical Communication Infrastructure Products. In 2018, Combilent Group acquired TXRX Systems, the LMR market leader in the US. TXRX continues to operate in the US under the TXRX brand, but now incorporated into the Combilent Group, TXRX products are available worldwide. Combilent & TX RX Systems invites customers, RF Communications users, system operators and integrators, to a series of 45-minute webinars during 2021. | |
| VICOM has a number of key partners that we do business with. Occasinaly we will organise to present webinars based on our partners products or technology to educate exisiting and potential customers in Australia and New Zealand. Our Webinars are free and all are welcome. Below you should see our upcoming webinars and recordings of previous webinars. | |